Therapist
Susan is a psychotherapist and spiritual counselor, licensed in New York and Connecticut. She has a Master's Degree in Social Work from Columbia University, and a Master of Divinity degree from Union Theological Seminary. She also holds Creative Art Therapies Certification from The New School for Social Research and Prepare/Enrich Certification for work within romantic relationships. Her career has spanned several decades, providing mental health services to children, teens, families, individuals, and couples with a broad range of psycho-social needs. She has had vast experience facilitating groups, and conducting prevention and intervention workshops, presentations, and webinars, covering myriad mental-emotional health issues and concerns.
Compassion and an Open Heart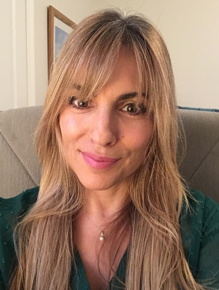 Susan believes in meeting clients where they are, with compassion and an open heart. She strives to be a direct and genuine presence within the therapeutic space, a co-creator of client wellness. She has particular expertise in Family Systems therapy, (particularly work with blended, divorced, step, extended, multi-sexuality families) and building co-parenting strategies, relationship counseling (dating, couples, pre-marital, marital), trauma, LGBT-Q issues, gender identity, and spiritual growth. Other central areas of focus include compulsive and invasive behavioral issues such as substance abuse, emotional eating/eating disorders, and sex/love addiction. She has had success with client-tailored, comprehensive bio-psycho-socio-spiritual behavior modification and recovery plans (abstinence and harm reduction) to address not only the aforementioned issues, but also the often-accompanying anxiety, depression and PTSD symptoms. She is well-versed in CBT/DBT and mindfulness modalities, including grounding practices, yoga and guided meditations.
Susan is also a clinician at UConn's Counseling and Mental Health Services. Last year, Susan facilitated several DBT/CBT skills and process groups per week at Walden Behavioral Care for Eating Disorder Treatment in South Windsor, CT. She is one of two Mental Health Professionals at the Yale Chapter of Camp Kessem, a free camp for children with caregivers living with cancer. Prior to practicing in Connecticut, Susan was a lead clinician at both Lutheran Counseling Center and Episcopal Community Services, on Long Island, NY. She was a Clinical Consultant for the Coalition of Behavioral Health Agencies in New York City, and has served as the Clinical Supervisor of the mental health unit of the Brooklyn Women's Shelter in East New York and also at Harlem Dowling Specialized Services for those affected by HIV/AIDS in Harlem. Earlier in her career, she spent 9 years working as a Mental Health Counselor in the NYC Board of Education High School SPARK program.